This is a strange idea for a post since I never really do anything involving music, but with such a cool dude like Tom Waits, I felt compelled to do this list. He's one of my favorite artists to listen to. His signature growl, creative instrumentation, and earthy sound makes him a unique cat. Anyway, here are my 10 favorite songs from this strange jazz alien.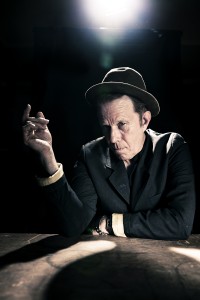 10. Martha 
From "Closing Time (1973)"
This is a song that feels like it's from a completely different artist. Then again, so does this whole album, as it is the debut of Waits. It feels much more like the work of a wannabe Bob Dylan, but "Martha" is definitely the best track on the album. The beautifully tragic lyrics and Tom's soothing vocals make this a memorable tune. Great song.
9. Earth Died Screaming 
From "Bone Machine (1992)"
"Bone Machine" is my favorite Tom Waits album. It may not be his best (That would be "Rain Dogs"), but it's Waits at his most uncompromisingly unhinged. "Earth Died Screaming" is the chilling opener to the album, with dark, spooky lyrics and a strange other-wordly sound. The percussion sounds like a bunch of bones banging on the ground, and Tom's haunting vocal entertain the hell out of me! Plus, the nice send-off with the horns is a satisfying conclusion to the song. Fascinating listen.
8. Hang On St. Christopher 
From "Frank's WIld Years (1987)"
"Frank's Wild Years" is an interesting, if uneven, concept album by Tom Waits. "Hang On St. Christopher," coincidentally also an opener, is a strange song with a very mechanical feel. Tom's voice feels like you're hearing it from a walkie talkie, and the instrumentation is unique and creative. It's definitely a highlight from an otherwise mediocre album.
7. Step Right Up 
From "Small Change (1976)"
"Small Change" is a very underrated album. Released during his rise to underground popularity, it is the first album in which Tom Waits gains his sound as an artist. "Nighthawks at the Diner" showcases the potential, but "Small Change" delivers the promise. Anyway, this fast paced, hilarious tune is fun listen. The jazzy, somewhat theatrical instrumentation and the absurd, satirical lyrics make it a definite favorite. Awesome track.
6. Goin' Out West 
From "Bone Machine (1992)"
An unhinged, hard rocking one from possibly the most inaccessible album from a pretty inaccessible artist. It's easily the best song on the album, and the charming lyrics mixed with the loud, clattering sound makes you feel like a total badass while you listen to it. And, of course, Tom Waits is a total badass while singing it. It also includes Tom Waits' mantra: "I'm gonna do what I want and I'm gonna get paid." Nice.
5. Gun Street Girl 
From "Rain Dogs (1985)"
The true masterpiece of Tom Waits long enduring career is his experimental "Rain Dogs" from 1985. It includes many of the recognizable tunes from the master including "Downtown Train" and "Anywhere I Lay My Head." But, one of the best songs off a consistently amazing album is the country blues/folk track "Gun Street Girl." It features a great sound, as most of the percussion is just Waits banging on a dresser with a two-by-four. The interesting lyrics and Waits' gravelly voice create an earthy and smokey atmosphere. Cool song.
4. Warm Beer & Cold Women 
From "Nighthawks at the Diner (1975)"
"Nighthawks" is an interesting album. It's a semi live album. The record company called a small group together to sit in the studio, as Waits performed a live show in the studio. While the majority of the songs aren't entirely memorable, this one is certainly a great one. The amusing lyrics are great, the saxophone solo is soulful, and Waits compromise between gravelly voice and normal voice is interesting to listen to. Nothing else to say, but a nice, jazzy track.
3. Jockey Full of Bourbon
From "Rain Dogs (1985)
I first heard this song in Jim Jarmusch's fantastic indie classic, "Down By Law" which also stars Waits as a down on his luck DJ who is framed for murder. Great film, definitely check it out. But, enough about that! Jockey Full of Bourbon is a cool-sounding smokey track with a low, but intense vocal and an echoing guitar. It makes you feel like a cowboy, with occasional audio of a whip sound effect in the song. Great listen, also check out "Down By Law."
2. Time
From "Rain Dogs (1985)"
While I love Pink Floyd, Tom Waits' track, "Time," a mellow, haunting ballad on an otherwise wild and loud album, is superior to the song on Dark Side of the Moon. It features poetic lyrics with visuals of down and out loners and outcasts, the definitive theme of the album itself. It's right smack in the middle of the album, which is the perfect placing of this tragic song. A cool off moment in an album of loud, fast songs. Definitely a great song.
1. Christmas Card from a Hooker in Minneapolis
From "Blue Valentine (1978)"
If you've never heard of the album "Blue Valentine," you're not missing much. It's a less than mediocre album with mostly forgettable songs. I say mostly, because it happens to possess the greatest song ever recorded by Tom Waits which makes it a contender for greatest song ever. The slow, brooding piano mixed with the bluesy electric piano and Tom Waits growling, vocal make it a true experience to listen to. Plus, the amazing lyrics, inspired by the poetry of Charles Bukowski, are great. The "twist" at the end is tragic and haunting. A beautiful song from the coolest guy ever. Awesome!
Tell me what you think of the list in the comments. Thanks!